Meet the GiGi's Playhouse Sacramento Team!
Nicole Harrigan, Board President
Nicole is a wife, mom of three, and zealous advocate for Down syndrome. She works full time as an attorney for the California State Lottery. One of the main reasons Nicole can't wait to bring GiGi's Playhouse to Sacramento to have an actual, physical place to bring more families together to share in this journey. And what could be better than making the beautiful, capable, incredible Down syndrome community more visible to the masses? 
April Davila, Board Vice President
April is a working mama of two and wife with a background in education and recruiting. As a former teacher and a fierce proponent for the education of individuals with Down syndrome, April is excited and motivated to implement GiGi's robust and unique programs. April looks forward educating and inspiring those involved in the programs as well as making even bigger believers of the community at large. 
Catherine Conner, Board Treasurer
Cathie is extremely passionate in all that she takes on. She is a wife and mom of two lovely daughters and enjoys being intensely involved in all of their activities. She owns and operates her own commercial real estate business and is also working on her Master's degree. Cathie feels honored and proud to continue the family tradition of community service started by her late Father. Giving back to her community is a core value and one that she takes very seriously. She has a brother with Down syndrome who has been a true blessing to their family. Helping to raise her brother, A.J., has given her a tremendous love and appreciation for individuals with Down syndrome. Cathie is so eager to help bring GiGi's Playhouse to the Sacramento region to provide a safe, fun and educational place for these amazing, loveable and compassionate individuals and their families.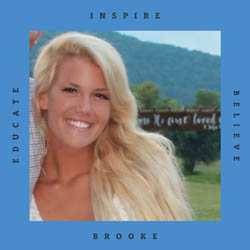 Brooke Jackson, Board Member
Brooke graduated from the University of Florida where she played basketball and earned a degree in production. She is extremely passionate about creating a world where individuals with Down syndrome feel loved, accepted and capable of anything! Brooke is overjoyed & beyond grateful for the opportunity to work alongside this group of supermoms to bring a GiGi's Playhouse to our community. 
Ashley Lasiter, Board Member - Secretary
Ashley is a wife and full-time working mom of 2. She has a B.S. Degree in Civil Engineering and Minor in Construction Engineering and Management. Although very analytical and a planner, Brooke has taught her that you can't plan everything, and you are better for it. She is unbelievably zealous about the Down syndrome community. She is ecstatic to be part of the future Sacramento GiGi's Playhouse with everything that it signifies and has to offer for the Down syndrome community. 
Danielle Conforti, Board Member
Danielle is a wife and mom of two amazing daughters. She is a speech pathologist who specializes in early intervention and is passionate about maximizing people's potential. Danielle cannot wait to jump into the GiGi's Playhouse programs and to pass on her love of working with people with special needs to her daughters and the Sacramento/Roseville community.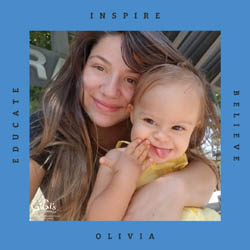 Olivia Goad, Board Member - Social Media
Olivia is a young wife and mother of two. Her first-born baby, Ariana Love, has Down syndrome. Ariana is now 3 and has shown Olivia the true meaning of beauty and could not imagine life without her. With her Major in Child Development, Olivia has always wanted to make a difference in the world and better the future for children. After Ariana was born, she soon realized that her passion and mission in life would be geared towards the Down syndrome community. Olivia eagerly jumped on board when she found out that GiGi's Playhouse was coming to her hometown. When she first received her daughter's diagnosis, after birth, all she wanted was a place to go where she felt celebration, understanding, and compassion. With GiGi's Playhouse, she is excited to be able to provide that exact wish to families and their new babies in Sacramento.
Lisa Mayberry, Board Member
Lisa is a wife, mom of two boys and works full time as a health care attorney. In 2017, her oldest son was born with Down syndrome, and since then, Lisa has been a zealous advocate for him and for others like him. She is continually amazed by these individuals and the Down syndrome community and hopes that more and more people will "see their ability" and how they are truly a blessing whom we can all learn so much from.
Nicole Deters, Board Member
Nicole is a wife and a mother of 3 boys. She has a background in the medical field from supervising care coordinator, medical assisting and caregiving. In 2014, her third son, Jaydon was diagnosed with Down syndrome and she knew that advocating was a top priority. When she learned about GiGi's Playhouse, she knew this was the place her family needed to be. A place where acceptance and kindness would fill the air; a place where our community and individuals with Down syndrome can come together to learn, play and laugh. The opportunities are endless and she's excited to be a part of this beautiful journey!
Karen Siino, Program Coordinator
Karen is a wife and mom of 4. She has a background in IT and currently works as a librarian and paraeducator. Karen is so excited for the opportunities that GiGi's will bring to individuals with Down syndrome, their families, and the community. She is looking forward to helping empower those with Down syndrome to be all that they can be. 
Kim Cheers, Site Manager
Kim is a wife and mom to two kids Braden and Alice. She has a background in education and a degree in Child and Family Services from Iowa State University. Kim loves all things Disney and cannot wait to bring her magic to the Playhouse. Honored and excited to be Site Manager of GiGi's Playhouse Sacramento doesn't even begin to describe the feelings she has about the amazing opportunity given by serving at GiGi's. Inclusion and kindness go beyond words and she works hard to instill those values into her children and all those around her.
Holly Siino, Board Member
Ever since Holly's sister Mia was born she has wanted to actively advocate for individuals with Down Syndrome. GiGi's Playhouse has been the answer to that wish and she is so excited to serve as a program lead and board member. Holly is an avid reader, DIY and crafting enthusiast, and soccer player. She has a background in post-secondary and adult education and currently works at Jobs for the Future, consulting on projects for the California Community College system. In addition to working at Gigi's Playhouse Holly is a volunteer with Special Olympics as event staff and coach. Holly has continued to be inspired by the GiGi's Playhouse Sacramento community and can't wait see what the future holds!