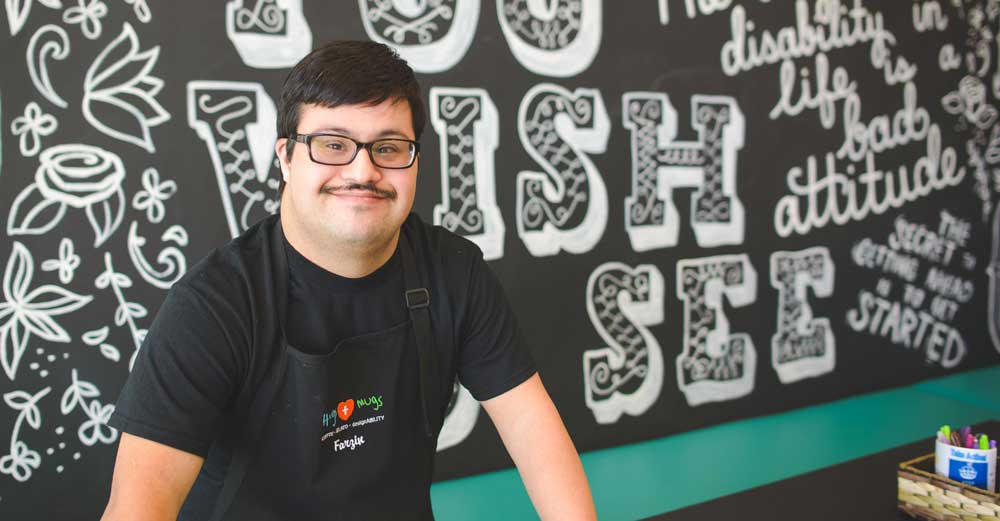 HUGS + MUGS IS NOW OPEN AT
2350 W. HIGGINS ROAD, HOFFMAN ESTATES, IL 60169
Sunday-Closed
Monday-Closed
Tuesday-Thursday: 10:00am-4:00pm
Friday: 1:00pm-7:00pm
Saturday: 9:00am-3:00pm
Our products feel good and taste good! When you buy them you are not only satisfying your own needs but the needs of our interns too!
---
We're Serving Gelato! 
Do you know that gelato has half the fat and less sugar than ice cream? Try our delicious flavors including: Vanilla, Chocolate, Strawberry Sorbet, Chocolate Chip, Mint Chocolate Chip, Raspberry Cheesecake, Nutella and Pistachio.
Yummy Milk Shakes 
Don't miss everyone's favorite milk shakes that come in a variety of flavors including: Vanilla, Chocolate, Strawberry, Reese's Peanut Butter Cup, Cookies 'N Cream, Chocolate Malts, Strawberry Banana, and Mango.
Hugs + Mugs Gift Shop & Cafe is a full service retail, specialty coffee and gelato cafe run by  adults with Down syndrome.
 
We'd like to extend a special THANK YOU to the Barrington Area Community Foundation which awarded us a generous grant for Hugs + Mugs!! This grant helped with our recent expansion project and is allowing us to enhance the career skills for adults with Down syndrome with our new product offerings -- gelato, specialty coffee, smoothies and more! Thank you B.A.C.F. for believing in GiGi's! Come on in to check it out and experience the great work of our interns!
Hugs & Mugs creates gifts from the heart: personalized mugs printed with artwork and photos-your design or ours-you choose!  Adults from GiGi University will be involved in running ALL aspects of the business:
Artwork and graphic design
Production of mugs
Baking and food preparation
Packaging
Customer service
Community outreach
Sales
Food Service
Barista
For more information please e-mail
hugsandmugs@gigisplayhouse.org
or call 847-278-8531.
To place an order please head to shopgigisplayhouse.org.
CLICK HERE FOR MORE INFORMATION ON GIGI UNIVERSITY.
Personalized Gifts
New products (not just mugs)!!
personalized face masks
insulated water bottles
beer steins and more!
Corporate
Your logo with our designs or yours! Send a heartfelt message to your customers while helping adults with Down syndrome reach their potential!
Inspiration
Send hugs to anyone with personalized mugs designed by the kids and adults from GiGi's. Choose from our Believe series and Love series. Each one contains a message of hope and inspiration.
Custom
Come in and create your own design in our art studio or online! Kids love to see their artwork on a personalized mug for their teacher, Grandma, mom or anyone! Or use one of our design and just add a picture and a name to customize your mug for the perfect gift!
Fun/Holiday
Whether it is the Italian "I got a guy", holiday cheer or World's Greatest Texter, they will all make you smile! LOL!
Birthday Mug
Have your party with us! Each child can design their own mug to take home that day! Food, fun and their own artwork on a cool mug filled with their favorite treat!
We have Mug templates for all occasions! (and if we don't we will make them!) Get well, gone fishin' you name it!!
All are dishwasher safe, made with love and guaranteed to put a smile on someone's face!
We do Birthday parties, girls night out, corporate parties, field trips and more!