Why did I choose speech therapy as a profession? Why do I have a passion for early intervention? Why do I want to be a part of GiGi's Playhouse? Why do I love volunteering? Why do I see a special light in people with Down syndrome? I do not have the perfect answer for these questions except to say, this is because I love seeing the potential in people, I love seeing them shine, and above all, I hate hearing that someone "can't" or "will never be able" to do something.
I knew in high school that I wanted to be a speech therapist.
Thirty something years later I still love the profession. Communication is powerful; it equally conveys needs and wants, likes, dislikes and feelings, builds self-confidence, and establishes social connections. Above all, it helps us to make sense of the world around us.
Everyone's ability to communicate is different and that's okay; there are still always ways of improving communication. Even if it's just a slight improvement today, lots of slight improvements compound and become something wonderful over time. When I started working as a speech therapist the funding for early intervention for children diagnosed with Down syndrome was guaranteed. Then there was a shift and I actually heard someone say, "we know there are delays in children with Down syndrome; they're expected. So why do we need to fund therapy when they are still going to be delayed?" I was young and disenchanted and angry. My response was simple though- because we should. We can make there be less of a delay; we can make it better than it was.
One of my pet peeves is John Mayer's song (sorry, I usually do like his music) "Waiting on the World to Change." No one ever made a change by sitting back and waiting. That is what GiGi's is to me – a place to make changes and achieve success. Seeing how GiGi's Playhouse as a company responded to Covid-19 and all the shutdowns was inspiring; they didn't just sit back and wait for the pandemic to be over; they charged ahead and kept making a difference in the lives of their families. I want to be a part of that GiGi's energy and forward thinking mindset.
So, I guess that's my "why"; I love seeing people shine and celebrate the little things.
Every slight improvement is powerful and new and huge and a reason to celebrate. I had a mom tell me one day that her son had added a new word to his limited vocabulary, "woohoo!" He said it all the time; he celebrated everything! I asked her where she thought he had picked up the word (her? dad? brother?) and she gave me a funny look, laughed and said,
"You say it about 20 times every day you work with William. Thank you for giving him the gift of being able to celebrate all the little things in life; to him they're not so little."
Thank you to GiGi's Playhouse for creating places to celebrate all of these wonderful people; the babies, kids and adults with Down syndrome, their families, their friends and support groups. It's a place for everyone's "best of all" and how amazing is that?! – Woohoo!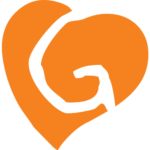 Danielle